October 11, 2021
Christmas stockings are very special in our home. They are a staple to our Christmas morning traditions. It started 30 years ago when I cross stitched a special stocking for my son's first Christmas. I loved being able to give him a special stocking with his name on it. When my daughter arrived a few years later I was lucky she was a January baby and had 11 months to make her a special cross stitched stocking of her own. Today those two stocking still hang in our home for Christmas. Everyone who has come into our family has had a homemade stocking given to them to add to our collection on Christmas morning.
I have found some very beautiful designs and decided to make up some stockings so others can have a special homemade stocking for Christmas.
I have 4 stocking designs so far and will be adding more as time allows.
August 2021
I have been working on some cushion covers. The two I have worked on are for 18 inch pillow covers. I will also be working some up for 16 inch pillows. They are machine embroidered on canvas with a fold over enclosure.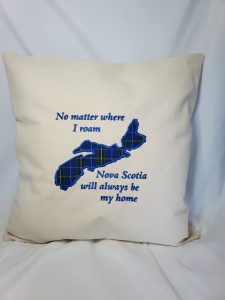 "No matter where I roam, Nova Scotia will always be my home" pillow has a applique tartan province. Currently I am acquiring east coast of Canada tartan's for New Brunswick, Nova Scotia, Cape Breton and Newfoundland. These pillows will be available subject to the availability of the tartan.
Contact for availability and pricing.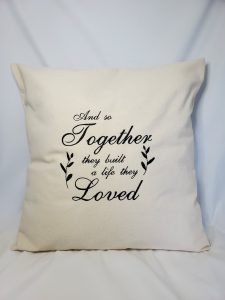 "And so Together they built a life they Loved"
Contact for availability and pricing
Contact for availability and price